Juniper Springs Lodge Condos
Posted by Verena Robinson on Friday, March 7, 2014 at 6:51 PM
By Verena Robinson / March 7, 2014
Comment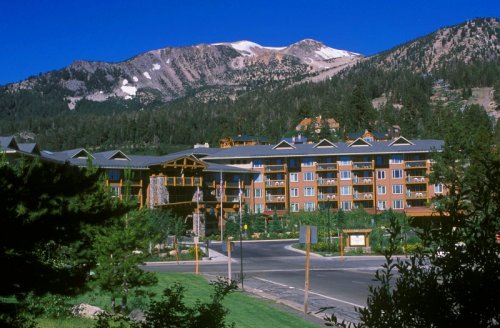 Juniper Springs Lodge condo hotel is situated at the base of Chair 15/Eagle Express. The development was built in 1999 and has a total of 174 units. This building is the "hub" of the Juniper Springs Resort, which is comprised of Juniper Springs Lodge, Sunstone, Eagle Run and Juniper Crest. Central check-in is located at Juniper Springs Lodge. None of the other complexes have a front desk. For this reason, buyers will need to secure private money to finance a purchase, or come in with cash. There are no conventional lenders that will finance at Juniper Springs Lodge. This is due to the "condo hotel" classification that many resort areas are facing (when there is a front desk/check-in located on the premises). There are a few lenders (private funds) who are now lending on these condo-hotel style complexes, but require a higher down payment and interest rate. Sunstone Condos, located right next door to Juniper Springs Lodge, and right on the ski run, is eligible for conventional lending with 20% to 25% down. Eagle Run is the last of the three bordering the ski run at Eagle Express. These condos are truly "ski in, ski out" and conventional financing is available. Juniper Crest is considered the higher-end development of townhomes, some with breathtaking southern views, situated behind Juniper Springs Lodge.
Most vacationers tend to prefer booking a unit at Juniper Springs Lodge when they come to Mammoth because of the convenience of having the private shuttle readily available, concierge desk, skier services, and The Daily Grind located in the lobby, with espresso counter, baked goods, California wines, beer, convenience grocery, mercantile items, logo wear, souvenirs, and coffee shop.
From the period of May 1st to Nov. 4th, 2013, the following sales have closed at Juniper Springs Lodge: A total of seven sales with one studio, four one-bedrooms, and two two-bedroom units. The studio sold for $235,000, the one-bedroom units at $200,000, $229,900, $242,000 and $250,000, with the two two-bedroom units closing at $390,000 and $420,000. Prices are clearly beginning to show a slight increase over this period last year. The same appears to be occurring at the Village at Mammoth and other desirable developments.
Gross average rental income figures for Juniper Springs Resort (Juniper Springs Lodge, Sunstone Condos and Eagle Run) are as follows:
| | | |
| --- | --- | --- |
| | 9/1/2011 – 8/31/2012 | 9/1/2010-8/31/2011 |
| Studio | $37,289 | $28,584 |
| 1 Bedroom | $28,621 | $23,267 |
| 2 Bedroom/ 2K | $38,684 | $32,698 |
| 2 Bedroom/ K2T | $33,320 | $25,765 |
| 3 Bedroom | $67,560 | $57,092 |
| 2 Bedroom Eagle Run | $31,149 | $25,273 |
| 3 Bedroom Eagle Run | $48,794 | $33,270 |
From these gross figures, the rental management takes 50% off the top to manage, book, clean, advertise, rental-related maintenance, etc. Once the Eagle Lodge development is built (will be where chair 15/Eagle Express parking lot is located), this bring more demand for vacationers and property owners who enjoy the ease of convenience of getting to the ski area without having to battle traffic/congestion at Canyon Lodge or make the drive up to Chairs 4, 10, 2 or Main Lodge.


Verena Robinson, Broker
CA BRE License #01512209
Mammoth Lakes Resort Realty
Tel. (760) 924-8521