Spring is Here! Mammoth Lakes Real Estate Market Conditions May 4, 2020
Posted by Verena Robinson on Monday, May 4, 2020 at 5:47 PM
By Verena Robinson / May 4, 2020
Comment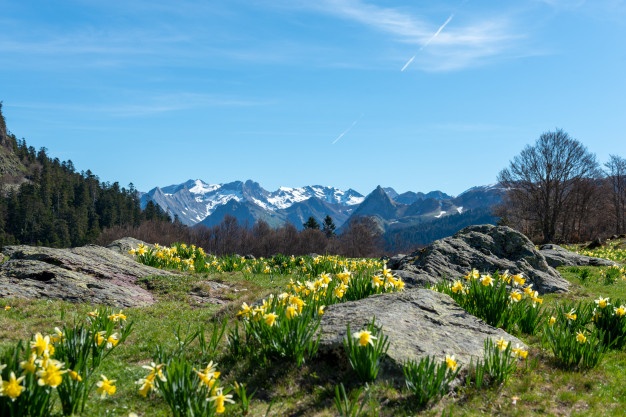 With beautiful weather and warmer temperatures, the snow is melting away on the lower elevation trails, Daffodils are beginning to bloom around town, and the deer have made their way back for the season. Like most locals, I am very much looking forward to summer, which is my favorite time of year in Mammoth. Many of the condo complexes are beginning their post winter cleanup of debris, raking the grounds, firing up the irrigation systems, and getting things ready for summer. Although there is still quite a bit of snow in the upper elevations, there are a few great early season hikes that are very enjoyable until other higher trails become accessible after the snow melts. Things still remain very quiet in town as businesses are still closed until further notice. Lodging falls under that category as well. Many second homeowners have been enjoying their properties here in Mammoth and making the best of their quarantine/stay at home order. This has actually made it feel less like a ghost town, seeing people out walking their dogs, hiking, biking, running, out driving around, and getting some fresh air.
Earlier this afternoon, Governor Newsom stated that "California will begin opening in the next week". This phase two of reopening will allow for some California businesses to reopen with strict regulations. Places like clothing stores, book stores, florists, and sporting good stores will be able to open for curbside pickup only. Restaurants with seated dining and shopping malls will not yet be able to reopen. Within Mono County, the Chamber of Commerce put out a draft of new regulations for businesses, hotels and vacation rentals to follow once they feel it is safe to move into that phase of reopening. For transient rentals (short term rentals or nightly rentals), some of the regulations include that all bedding and comforters shall be washed after each check-out. I think this is just good plain common sense and something that should have always been done. So, this is a definite positive for future visitors who book a condo or hotel room for lodging. Amongst the new regulations for short term rentals are allowing for extra time in-between rentals to allow sufficient time to "air out the unit" and do a thorough cleaning. The days of "back to back" rentals will be a thing of the past. A minimum of one day in-between check outs and check ins will be required. It will obviously take more time for the cleaning crews to conduct the cleaning in the appropriate manner that conforms with the new mandated COVID-19 standards for disinfecting and cleaning. The cleaning crews will no longer remove sheets and towels from the beds and this will be the responsibility of the rental guest to remove and place soiled sheets and towels in a bag before checking out. These topics along with several more were included in the draft of new procedures by the Chamber of Commerce last week. During the COVID-19 outbreak in Mammoth Lakes, which infected a total of 26 Mono County residents, a few of those that became infected worked in the cleaning industry. So, it would make sense and seems reasonable to have very strict standards when it comes to cleaning units in an effort to protect the housekeeping crews, while also ensuring proper disinfecting and cleaning for incoming rental guests.
So, you might be wondering, will this impact rental income or the "bottom line" figures? My guess would be "yes", but only slightly. Here is the reason why… In witnessing how many second homeowners have been here during the "Stay at Home Order", it is clear that people want to escape to the mountains any chance they get. Festivals or not, people will be coming up to Mammoth in droves once the tourism ban is cancelled. With cheap gas prices and not having to get on a plane, there will never be a more compelling reason to get into a car and drive a few hours to reach the fresh and clean air of the Eastern Sierra and activities in nature. I'm guessing that Mammoth will be at the top of most of Southern California's short list of driving destinations in the coming months. The slight impact on rental income revenues (post COVID-19) would be as a result of the one or two mandatory days in-between rentals and anticipated higher housekeeping costs to conform with the new cleaning requirements. Rental guests will hopefully be able to rest assured knowing that cleanliness will finally be up to proper standards.
There continues to be interest in buying real estate in Mammoth. Most people are waiting until the tourism ban is lifted, which I anticipate will be first week of June (maybe sooner, we'll see). Some properties are going under contract, some with multiple offers, which is surprising given the fears surrounding the post COVID-19 economy and setbacks it will cause to the economy in general. Judging from the number of people looking at property on the Mammoth Lakes Resort Realty website, it is clear that interest is picking up. I've had a few buyers advise they are coming to look at property the moment they are able to book a place to stay. Some of the properties that are going into escrow are at a discount compared with the recent comparable sales before March of this year and some of the recent closed sales are very close to the asking price (mid COVID-19 shut down). It goes without saying that many people are anticipating and/or getting excited about purchasing at a discounted price this year. If the excitement continues along with increased demand and limited supply, property values will not stay down for too long. Since Mammoth is such a unique resort destination that is only four-square miles, there is a very limited supply of real estate available given California's population of nearly 40,000,000 people. With an increasing population comes the need to escape the congestion of urban areas and large cities and to be in nature. Those who realize the importance of time, don't have the luxury of time to postpone a purchase, and know what they want, are the buyers who are purchasing now or plan to buy in the near future. If buyers are fortunate enough to not have been too negatively impacted financially by the COVID-19 shut down, they will be able to possibly capitalize on reduced prices.
Many years ago, Mammoth summers were very similar in occupancy to what we are currently seeing in town. I remember those days before the festivals and marketing efforts ramped up to put Mammoth Lakes on the radar as a top year-round destination. While the festivals, parade and large social gatherings have been cancelled, there is no better place to social distance doing individual sports like hiking, running, fishing, golf, mountain biking, cycling, etc., than here in Mammoth. And, this is what people need and crave. Maybe it isn't a bad thing to lose the distractions of large organized gatherings and become more centered and grounded with nature to fill the void.
I'm going to provide one of my favorite movie quotes below from "Charlie Wilson's War" that featured Tom Hanks, Julia Roberts and the late Philip Seymore Hoffman:
"There's a little boy, and on his 14th birthday he gets a horse... and everybody in the village says, "how wonderful. The boy got a horse" And the Zen master says, "we'll see." Two years later, the boy falls off the horse, breaks his leg, and everyone in the village says, "How terrible." And the Zen master says, "We'll see." Then, a war breaks out and all the young men have to go off and fight... except the boy can't cause his leg's all messed up. and everybody in the village says, "How wonderful." Now the Zen master says, "We'll see."
So, the moral of the story is that good things can come out of bad things, and what we might perceive to be "bad" can actually turn out to be the opposite. And, always remember:
"You are never too old to set another goal. Or to dream a new dream." -Aristotle
"There are far better things ahead than any we leave behind." – C.S. Lewis
If you'd like to request a list of properties currently available tailored to your specific criteria, or if you would like to schedule a "Face Time" property showing up until you're able to come and view properties in person, please feel free to reach out to me directly.
Thanks for reading!
Verena Robinson, Broker/Owner
CA DRE 01512209
Mammoth Lakes Resort Realty
760.924.8521 office/direct
verena@mammothlakesresortrealty.com